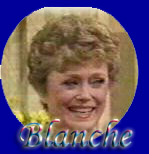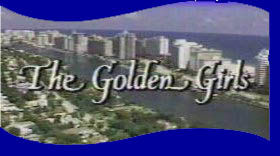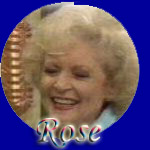 Welcome all GG fans to the largest Golden Girls information resource on the Internet, The Golden Girls USA. Offering over 60 pages of your favorite Golden Girls info including a complete Episode Guide, Actress Profiles, Character Profiles, Guest Star info, over 300 photos, and much more. We are 100% dedicated to our fans and anything new that appears on this site is 9 times out of 10 requested by the fans. So keep the requests rollin, because we're always adding new things that you wish to see. We are the resource for the fans! So come on in, grab that popcorn and pull up a seat to the best show in the house 'The Golden Girls' !

Happy Thanksgiving from all of us at The Golden Girls USA!
November 20 , 2002- ::NEW PAGE:: See Below for details. ALSO: Coming soon under our new category 'GG Friends & Relatives' are listings of Sophia's friends from Sicily, Blanche's Boyfriends, and the 'GG Grandchildren' which will highlight the extended family of the Girls'.
-News Flash- Bea Arthur's Intimate Portrait on Lifetime TV is to be released on January 20, 2003! Also: The First Season of The Golden Girls is to be released on DVD in 2003.
**NOTICE** This website was designed for an 800x600 screen resolution and Internet Explorer 5 or higher. Most effects on this website are not Netscape compatible. Netscape has also been known to cause viewing and alignment problems and prolongs the loading time as well. So to get the best out of this site, including faster loading in the galleries (especially for people with Dial-Up Modems)
November 20, 2002- NEW PAGE!! Under our 'GG Friends & Relatives' category, we have 'GG Children' a complete listing with photos of the children of the Girls'. Check it out!
Monday, November 25, 2002- (all times are Eastern Standard, Lifetime TV in USA only)
9:00 AM- Blanche lists her "Mercedes" for sale in a new attempt to get men.
10:00 AM-Rose has a fling with Buzz Mueller before she realizes that she loves Miles. Meanwhile, Sophia moves out after Dorothy gives her a curfew and tells her she doesn't like the crowd she's been hanging out with.
6:00 PM-Blanche decides to get her breasts enlarged after recieving a bonus check from work.
6:30 PM-Blanche and Rose take Dirty Dancing lessons.
11:00 PM- Blanche suggests to Rose that she gives Miles a boudoir photo of her for his birthday.
11:30 PM-Rose gets laid off from her job at the Grief Center and has to find another job.
Episode & Quotes of the Month: November
Every month, TGGUSA selects an episode and 3 quotes as our featured ones of the month. To submit your favorite episode or favorite quotes, e-mail us!
Dorothy: I'm sorry you'll have to excuse my mother, she suffered a slight
stroke a few years ago which rendered her totally annoying!

Sophia: I found my lucky handkerchief.
Rose:Where was it?
Sophia: It was in my bra.
Rose: What was it doing in your bra?
Sophia: I was blowing my breasts, Rose!

Dorothy: I'd kill Gloria if she wrote a book about my sexual life.
Sophia: You'd kill your sister over a pamphlet?
Dorothy: Shut up Ma!
Episode of the Month: "The Operation"- (Season One, Episode 19)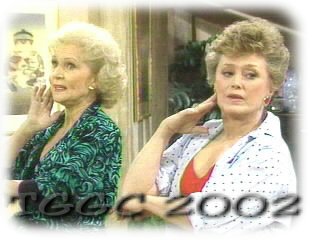 Dorothy injures her foot during tap dancing practice and has to get operated on. She is afraid of hospitals so she escapes once and they take her back in.
To view the results of our previous polls, click HERE
Visitors since March 4, 2001
***DISCLAIMER*** This website was created by ©TGGUSA (Copyright 2001-2002) on ©March 4, 2001. TGGUSA
has asserted our rights under the Copyright, Designs & Patents Act, 1988, to
be identified as the author of this work. This site is by no means affiliated
with Rue McClanahan, Bea Arthur, Betty White, or Estelle Getty or Buena Vista
Productions in any way. TGGUSA added all content and have the right to delete
or add things. For more additional copyright information, click HERE
**PLEASE NOTE** That the TGGUSA designers are NOT any of the actors or actresses mentioned on this site and have absolutely no contact or association with them whatsoever. E-mails that you send to the mentioned addresses are NOT read by the actresses or their agents, but the webmasters and designers.


©2001-2002 The Golden Girls USA. All rights reserved unless otherwise noted.