*Estelle Getty*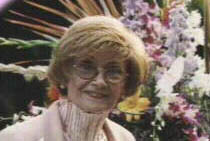 Short Biography & Career Highlights
Birthdate: July 25, 1924
Birthplace: New York City, New York
Short Biography: (as taken from our sister website, Simply Sophia)
Estelle loved the world of theatre since she was born. Estelle saw her first Vaudeville act when she was just 4 years old and loved every bit of it. When Estelle was in her teens, she would audition for just about every play she came across. She then married Arthur Gettleman, and moved to Queens NY. They had two sons, Carl and Barry. In the early 70's, Estelle approached a man named Harvey Fierstein, who has written a play she had attended, and asked him to write her a part. She then portrayed the mother of an aging drag queen in the play he wrote, "Torch Song Triology" , which became a total Broadway hit. She then joined the National Tour of the play and had impressed the people for NBC's newest show, The Golden Girls that they asked her to audition. So then, in 1985, Estelle began what is very well the most famous role she has ever played, the role of the feisty, fiery, sassy Sophia Petrillo on The Golden Girls . She was only supposed to be guest-starring, but then her role became a permanent role and quickly became alot of people's favorite Golden Girl. When the show was canceled, she continued her role on TGG's spinoff, The Golden Palace , and when it was canceled, she still continued her role as Sophia on Empty Nest . Estelle Getty played the role of Sophia for a total of 10 years.
Career Highlights:
* Began her acting career in 1978 with "Team Mates"
* Played a role in two classics: "Tootsie" and "Mask"
* Played "Sophia" in "The Golden Girls"
* Won an Emmy in 1988 for her role in "The Golden Girls"
* Played Sophia in both "The Golden Palace" and "Empty Nest"
* Played in the family film "Stuart Little"
See great pictures of Estelle on our sister website, Simply Sophia- http://simplysophia.tripod.com
Recommended Estelle Websites:
Estelle Getty, Genuine Golden Girl (official site!)- www.estellegetty.com
Simply Sophia- http://simplysophia.tripod.com